UMAMI POP is traditional Fish Cake made with enhanced recipe and ingredients.
Tasty, nutritious and free of artificial filter materials and preservatives.
UMAMI, the 5th flavour of taste in food that is above sweet, salty, sour and bitter.
UMAMI ODEN & POP creates a new culinary concepts that embraces the beauty of traditional delicacy and taste as well as health awareness.
Innovative and Delicious
A new concept in what fishcake can taste like. Totally love it!.

Frozen Delivery Service available within KLANG VALLEY ONLY.

Please do not purchase if you are out of Klang Valley Area. Feel free to contact us for more information.
Buy 4 packs now to enjoy FREE SHIPPING within Klang Valley Area.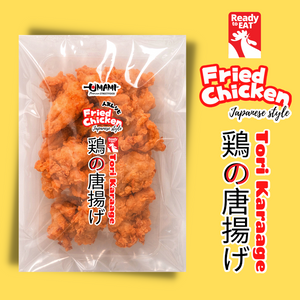 日式炸鸡 Japanese Style Fried Chicken Tori Karaage

Japanese fried chicken is tender, juicy and crispy on the outside with a tint of UMAMI sweetness on the inside…oishii yo~ 

Simply take out our UMAMI Fried Chicken from the freezer and put it in Air Fryer/Oven and re-heat it for 5 minutes. You can also reheat it by deep frying it in hot oil for about 1 minute or untill golden brown. Enjoy it anytime when you have cravings for fried chicken or some little snacks!!



RM18.90/pack
CLASSIC PACK
Try our popular CLASSIC PACK with wonderful flavours suitable for everyone in the family including young kids and elderlies.
BUY now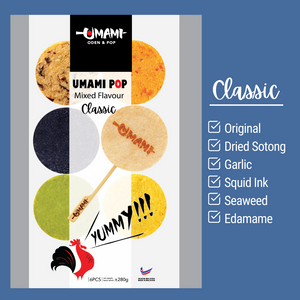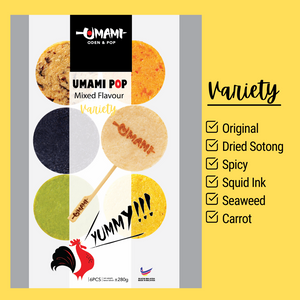 VARIETY PACK
A mixture of different flavours where you could try both classic and also our extra Spicy POP and special Squid Ink POP from the deep sea. Our Carrot POP is sweet and healthy!
BUY NOW
EXOTIC PACK
For the explorers who loves Exotic and Rich Flavours! One of our best sellers! Taste even better when pair with sauce and soup!
buy now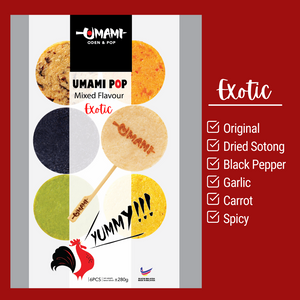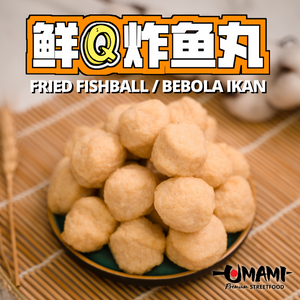 Fried Fishball 鲜Q炸鱼丸
UMAMI FRIED FISHBALL

Made with fresh meat and 100% free from preservatives, artificial colouring or additives.
One packet contain 20 pieces, vacuumed pack for simple
and storage convenience.
It is cooked, simply heat it up with any cooking preference
and enjoy! 
buy now
WHITE FISHBALL 鲜Q白鱼丸
UMAMI WHITE FISHBALL
It is our premium selection, made from fresh fish 🐟
sourced from local market in Kuala Selangor. 

Our fishball is 100% free from artificial materials and preservatives.
A variety of ways to eat such as hot pot / steamed / fried /
with soup noodles. Welcome to use your creativity to enjoy our fishballs!
buy now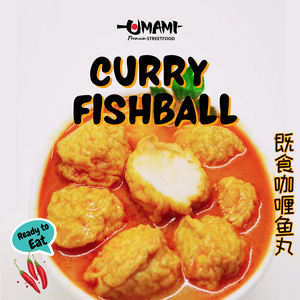 Curry Fishball 「咖喱鱼丸」
The classic street snack "Curry Fish Ball" inspired from Hong Kong! One pack 10 pieces pair with our super delicious curry soup!

Our curry soup is made with 15 kinds of spices and seasonings with Chef's 20 years of cooking experience.

Premium Ingredients - freshly made and absolutely delicious!
Three minutes - super easy and convenient preparation time.
RM11.90/pack
Tomyam Fishball「东炎鱼丸」
Sawadeekha~ Our TOMYAM FISHBALL's appetizing sour and spicy soup is made with more than a dozen of spices and seasoning!
Simply take it out of from the freezer, and put it in boiling water for three minutes. Once heated, cut out and pour to bowl and enjoy! 

You can now taste Thailand's national food by buying our Tomyam Fishball~~
RM11.90/pack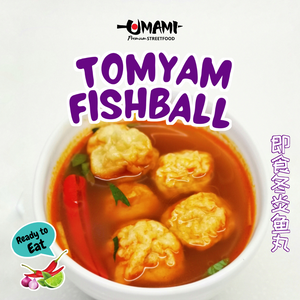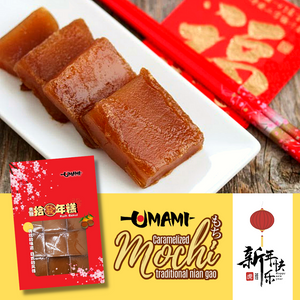 Caramelized Mochi 传统年糕 (Niangao)
UMAMI #拾發年糕 #传统年糕 #送礼佳品

各种简易的年糕吃法
甜甜蜜蜜好吃不粘手
日式传统年糕, 迎合新时代的大众口味, 甜度适中, 醇香微甜不腻, 真心好吃!
No preservatives, No chemical ingredients, Pure natural Ingredients. Delicious, not overly sweet. The texture is smooth yet not greasy.
A pack of 18 pieces traditional rice cake will definitely reunite your family for a wonderful & Prosperous Chinese New Year! 
RM22.90/Pack